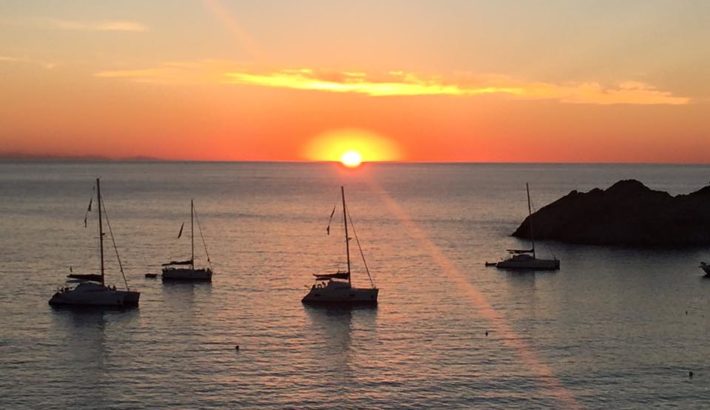 Ibiza is famous for its sunsets, here is our guide to ensure you get the best sunset experience
Experimental Beach
The best chic sunset experience the east side of Ibiza has to offer. Located on the Cap des Falco pebble stone beach next to the Salinas national park you have an amazing sea view and stunning light across the sky as the sun goes down just behind the cliffs. Expect chill Ibiza music, delicious cocktails, great food and a mix of locals and summer visitors.
Chiringuito Cala Escondida
Named the most environmentally sensitive and sustainable beach bar in Ibiza, this little gem provides the most authentic non-fancy setting to watch the sun set at Cala Comte. Have a drink at the bar, sit on the rocks or go swimming as the sun sets. The name Cala Escondida means "hidden beach", even though it is quite hidden it is not difficult to find if you know where to look. Arriving at Cala Comte look for the stairs to the left (opposite side of Ashram).
On a boat
Want to choose your own sunset spot? From a private chartered boat you decide where you want to see the sunset. From the deck you have front row seats to the best show in Ibiza. Es Vedra? Outside the famous Mambo and Cafè del Mar? Outside Formentera? Or from that secret Cala? You decide where, and you decide whom to bring. Have a look at the range of boats provided by Cotton Boats here
Hostal La Torre
This small hideaway just 3 km outside San Antonio has a bohemian vibe, and offers a more relaxed sunset session than the infamous sunset strip. Expect a "Tropicana club" vibe, but accompanied by Balearic sunset beats. The sun goes down as you have a cocktail at the bar or enjoy local cuisine from the restaurant deck or the table for two on the rocks.
Cotton Beach Club
Overlooking the amazing Cala Tarida beach at sunset whilst enjoying the exquisite Cotton cuisine is a real treat. The grand terrace restaurant offers a Mediterranean fusion a la carte dinner and a carefully selected wine list. The high quality of the cuisine, the attention to details throughout the venue, and the friendly staff have made this spot a favorite amongst connoisseurs.
Please keep in mind sunset times and sunset locations throughout the season for your best experience.
Cala Tarida sunset