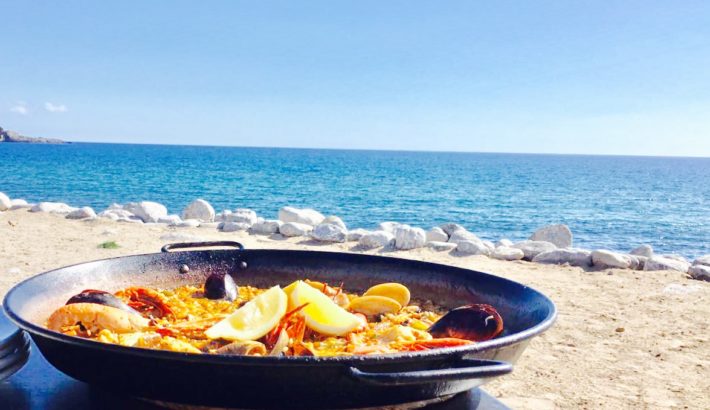 PINTXOS
The finger food size tasty Pintxos got their name from the way they were traditionally served; a piece of food on top of a slice of bread pierced with a cocktail stick. The pintxos are served as bar snacks together with your glass of wine or beer, or you can eat them as full meal. Nowadays you don´t necessarily only see pintxos served on a slice of bread, the cuisine is ever evolving and you can find many new and exciting pintxos flavors.
El Zaguan in Ibiza town has the authentic atmosphere and the best pintxos in Ibiza. Prepare to queue a little bit for a table, or enjoy your pintxos from a seat at the bar, either way we promise it is worth it!
FRESH FISH
Access to fresh fish is one of Ibiza's luxuries. Try the Sirvia (Grouper) , Dorada (Gilt-head Bream), or Lubina (Seabass). For the absolute freshest fish there is head straight to "Merkat Nou" in Ibiza town, which is the old fish market. For non-fancy right on the sea traditional chiringuito experience try the Fish Shack at Sa Punta in Talamanca. For the luxurious experience try El Chringuito, Cotton Beach Club or Cotton Lounge.
PAELLA
Even though this is not particularly a traditional Ibicenc dish, it is considered the national dish of Spain (at least from a visitor's perspective).  You can find Paella on the menu at every other restaurant, but in your search for the best ones we are happy to help. There are also a variety of different recipes for Paella, but we would highly recommend that you go for the seafood paella. Some of the best ones can be found at Yemanja in Cala Jondal and La Escolera at Es Cavallet. For the ultimate feet-in-sand lunch Paella have a break in Formentera during your boat trip, the famous Playa Illetes host several excellent choices: Juan Y Andrea, Beso Beach and El Moli de Sal.
Get to Formentera with one of Cotton Boats yachts.
BULLIT DE PEIX
The fish stew Bullit de Peix is an ancient old tradition of Ibiza and Formentera cuisine. The recipe varies depending on the chef, but typically is made of fish, vegetable, rice, potatoes, white wine and saffron. Trust us when we say that this is worth the experience, you have never tasted anything like it. For the best experience, combining food, view and atmosphere, try to make a reservation at El Bigote in Cala Mastella. Yes we said "try" as this place is so popular it is rumored to have to turn down the King of Spain as it was completely full (as always). They only have two seatings, one at 12PM when they only serve the fresh fish of the day, and one at 2 PM when they serve the Bullit de Peix. Bring a big appetite. 
 TAPAS
The beauty of tapas is that even though there are the traditional plates you tried that time in Madrid or Malaga, there are slight variations in every region of Spain. So even though you have had tapas before you are still in for a treat eating tapas in Ibiza. Some of our favorites are La Taberna on Plaza del Parque, and Sa Brisa that serves untraditional gourmet tapas on Vara de Rey.
Buen provecho!